While the curfew is in place we can not take in guests. At the edge of the La Tigra National Park we offer a quiet wooden cabin with two rooms and a big porch with a great view over San Juancito and the Cantarranas valley. A rich continental breakfast is included. We can serve you a delicious vegetarian dinner if you tell us at least a day before.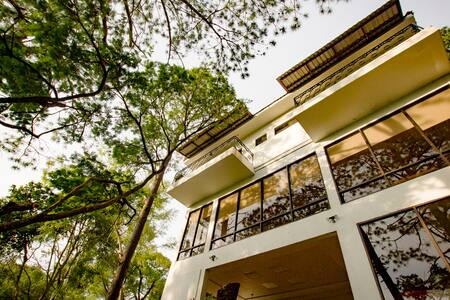 SUPERHOST
חדר פרטי · 8 אורחים · 4 מיטות · 2.5 חדרי רחצה משותפים
The heart of Santa Lucía/El Corazón de Santa Lucía
Beautiful modern home in the heart of Santa Lucía- a tourist town 20 min. from the capital of Honduras, Tegucigalpa. Great getaway from the buzz of the city in this relaxing home. Nature all around you and great amenities like a jacuzzi/hot tub. You can walk freely in this town as it is extremely safe and there are many tourist attractions nearby like Valle de Angeles and La Tigra. My parents will be your gracious hosts during your stay ¡Se habla español!
San Juancito is a small pueblo in central Honduras, located 40 km northeast of Tegucigalpa, the nation's capital. The town is in the department of Francisco Morazán. Including the dependent hamlets of Nuevo Rosario, Guacamaya, and Plan Grande, the population totals at about 1400. Its central neighborhood is depicted on the back of the 500-lempira bill.